DMC3000 Beta Module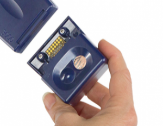 The Beta Module provides operational dosimetry for hospital personnel, first responders, and radiation workers where there is a Beta radiation risk.
The add-on Beta Module attaches to the DMC 3000 dosimeter is able to measure Hp(0,07) radiation
at a wide range of energy levels.
The Hp(0,07) and beta measurements, display and alarms are highly visible on the DMC 3000's LEDs and high contrast backlit LCD display.
Powered by the DMC 3000, the add-on module does not require any supplementary battery and remains operational over 2000 hours in continuous use. Calibration and functional parameters are stored in the module.
Features:
Hp(0,07) and wide range beta radiation measurement
High efficiency beta measurement
Superior Hp(0,07) energy response
Plug and play
Meets or exceeds applicable IEC and ANSI standards
Excellent EMC Immunity
Designed for ruggedness and durability
MECHANICAL CHARACTERISTICS
Rugged, high impact polycarbonate-ABS case
Dimensions with DMC 3000:
– 122 x 60 x 21 mm (4.8 x 2.4 x 0.8 in) max. without clip
– 122 x 60 x 28 mm (4.8 x 2.4 x 1.1 in) with standard clip
Weight with DMC 3000: < 112 g (3.9 oz) with clip
Worn by a replaceable standard clip
ENVIRONMENTAL CHARACTERISTICS
Temperature range: -10°C to 50°C (14°F to 122°F)
Storage: -20°C to 71°C (-4°F to 160°F)
Shock, vibration and drop resistant
IP50 protection
EMC: complies and exceeds standards by a large margin ( compliant certificate number: DOC003214)
MIL STD 461-RS103 (pulsed electric field): exceeds 200 V/m from 10 kHz to 5 GHz
MIL STD 461-RS101 (magnetic field 30 Hz to 100 kHz)
PRODUCT CHARACTERISTICS
Histogram Features
– Additional Hp(0,07) measurement (dose, dose rate and maximum dose rate) saved on non volatile memory (EEPROM) at the same time as Hp(10) measurement in configurable steps (10 s, 60 s, 10 min, 1 hour, 24 hours)
Display Features
– Additional Hp(0,07) measurement displayed on DMC 3000 high quality white backlighting
– Blue top LED for Hp(0,07) dose increment indication
Alarm Features and Communication
– DMC 3000 alarming speaker, vibrator, high efficiency red flash LED, 3 top LEDs and display       indicators
– Hp(0,07) dose/rate alarms, adjustable over the display range
– Hp(0,07) dose/rate warnings, adjustable over the display range and acknowledgeable
Calibration
– Factory calibration in accordance with ISO/IEC 17025
– Parameters saved into the module
Compatibility
– With all DMC 3000 (firmware upgrade needed if firmware lower than V7.x)