DMC3000 Telemetry Module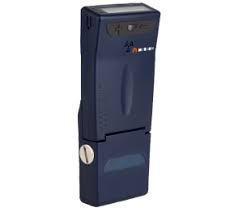 The Telemetry Module is an accessory device for the DMC3000™ dosimeter that physically integrates into the dosimeter's case. The purpose of the Telemetry Module is to transmit a worker's radiological data (accumulated dose, dose rate and alarm status) to other WRM2™ Telemetry System components (Base Station, Repeater, etc.). Although the Telemetry Module has been specifically designed as the most advanced addition to our dosimetry family (DMC3000™ dosimeter), it features seamless communication with all existing WRM2™ Telemetry receivers.
Additionally, the Telemetry Module provides access to a variety of accessory functions, including supplemental visual alarm indication in high-noise environments via supplied Bluetooth connectivity.
Features:
Transmits radiological information, in preconfigured intervals to WRM2™ Telemetry receivers
Low-power optimized for long life
Optional Bluetooth link for communication to supplemental alarm accessories
900 MHz and 2.4 GHz Options
Battery Type: AAA (LR03 1.5v)
External Power: 1.5V-3.6V through battery adapter
Battery Life: >40 hours (900 MHz)
>30 hours (2.4 GHz)
OPERATING CHARACTERISTICS
Transmit Power Output: 100 mW(900 Mhz), 10 mW – 63 mW (2.4 Ghz) locally regulated
Receiver Sensitivity: -106 dBm (900 MHz), -100dBm (2.4 Ghz)
Frequencies :900 (902-928) MHz or 2.4 ISM Frequency range
Over the air data stream: 19.2 kbps for WRM2 900 MHz or 250 Kbps for WRMDM2.4 Ghz
Transmission interval: 4 seconds or user configurable
Agency Approvals: FCC (900 Mhz) (USA), IC (Canada), and CE (Europe) (2.4 Ghz)
Bluetooth: 21EDR (SPP, HFP- AG) (63 mW)
Range: *Up to 1.7mi (900 MHz)
Range: *Up to 500 meters (2.4 GHz)
ELECTRICAL CHARACTERISTICS
Internal Power: AAA Alkaline Battery(LR03)
External Power: 1.5v – 3.6 vDC external power 100 – 220 VAC with USA and Euro Adapter
MECHANICAL CHARACTERISTICS
Height: 4.8" (121 mm)
Width: 2.3" (58 mm)
Thickness: 0.98" (25 mm)
Weight: 54 g without DMC 3000 and 165 g with the DMC 3000 and AAA Battery
PHYSICAL CHARACTERISTICS
Case: ABS plastic
LED: Red, Green, Yellow, Blue LED's
Antenna Connectors: Wired
PC Communications: Micro-USB
Ruggedness: 3 drops on each face from 1.5m.
Operating Temp: -10C to 50C (14F to 122F)
Relative Humidity: 10-95% Relative Humidity (without condensation)