Accurad PRD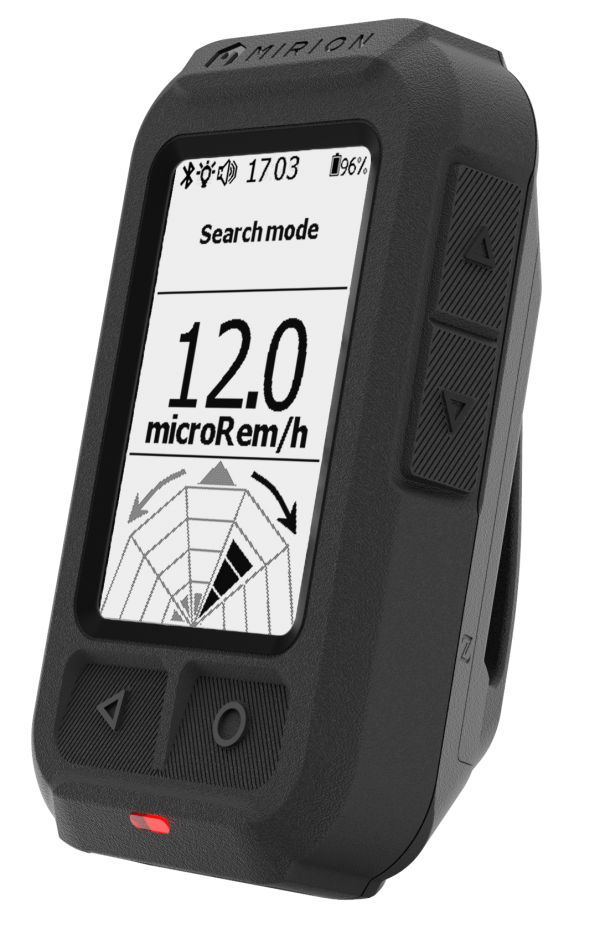 MADE BY RADIATION EXPERTS
Mirion, and in-the-field professionals.
Only get alerts for real threats. The AccuRad PRD runs on innovative Variable Background Suppression (VBS), allowing operation in varying background environments and will alarm only for a real threat or hazard.
Get accurate radiation exposure readings. The AccuRad PRD provides dose measurement and dose alarms for radiological events, utilizing Mirion's long-standing expertise in the radiation safety industry.
Analyze incoming information in real time. The app allows real-time data visualization and real-time data relays to increase situational awareness across many PRDs and other detectors. Compatible with a variety of platforms, including RadResponder, Sigma and SpirVIEW Mobile™ software.
BY EMERGENCY RESPONDERS. FOR EMERGENCY RESPONDERS.
The AccuRad PRD is the first PRD developed in close collaboration with state and federal law enforcement and first responders to fit seamlessly into their routines and address the most critical, in-the-field needs from a radiation detection device.
THE ACCURAD PRD IS BUILT:
For the reality of field work: rough treatment, harsh conditions. The AccuRad PRD is solid, durable, with an impact-resistant covering to stand up to the test, time and time again.
For discreet, hands-free detection. The AccuRad PRD is lowprofile and easy to read with the top-screen display. Users no longer need to remove the PRD to take a look.
For waterproof protection for when teams are (literally) putting out fires.
For "set it and forget it" use, with minimal training and maintenance required. The AccuRad PRD is in-the-field easy — simple to use even in the toughest situations and offers a tutorial library in the smartphone app.
For when you can't let a source get away. Find the location of a radioactive hot spot in a large, busy environment with built-in directionality.
For an entire week, month, mission… without a battery change. The AA batteries in the AccuRad PRD last for 900 hours in the field, and are easily replaceable with commercial batteries.
FEATURES:
Solid and durable, with an impact-resistant covering
Simple to use − no training required
Discreet, with a top-screen display for quick-glance reading
Long-lasting, easily replaceable batteries allowing more than 900 hours in the field
Directionality, helping users zero in on trouble faster
Low cost of ownership
RADIOLOGICAL PERFORMANCE:
Detectors:
CsI(Tl) scintillation detector with temperature compensated SiPM for interdiction missions
Silicon diode for integrated dose and high dose rate to ensure proper health and safety
Detection Performance:
Alarms at 50 μrem/h (0.5 μSv/h) within two seconds
VBS: Authenticates true alarms in variable backgrounds
Energy range: 25 keV to 3 MeV; detects all radionuclides of concern
Dose Rate:
Range: up to 1000 rem/h (10 Sv/h) with measurement history
Accuracy: ±20%
Dose:
Range: up to 1000 rem (10 Sv)
Accuracy: ±20%
CHARACTERISTICS:
Physical:
Weight: 7 oz (200 g), including clip
Size: 4.25 x 2.4 x 1.4 in. (108 x 61 x 36 mm) without clip
Batteries:
Two AA batteries for more than 900 hours of continuous operation
Tool-less battery cover
Environment:
Protection rating: IP67 (dust and 1 m (3 ft 3 in.) water immersion)
Temperature: -4 °F to 140 °F (-20 °C to 60 °C)
Drop: 1.5 m (4 ft 11 in.) on concrete
Innovative heavy-duty bi-material construction
Replaceable fiber-reinforced clip