EDIS-1 Environmental Direct Ion Storage Dosimeter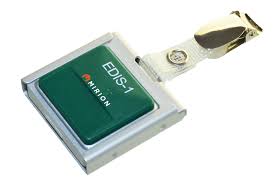 The EDIS-1 dosimeter is based on an ionization chamber combined with a modern electronic Direct Ion Storage (DIS) memory cell. The Ion Chamber is widely used as a reference detector in radiation detection and is now available in everyday dosimetry applications. The EDIS-1 dosimeter can be read infinitely and non-destructively without any loss of dose information. This unique feature allows the user of the EDIS-1 dosimeter to instantly read environmental doses whenever necessary.
The radiological range of the EDIS-1 unit covers the entire H*(10) photon energies without any compromises.
The wide dose and energy range, the ability to operate in pulsed fields and the performance at high dose rates make EDIS-1 dosimeter an ideal device for all kinds of radiation dosimetry applications. 
Features:
Direct measurement of H*(10) over the entire energy range
Instant non-destructive readout and dose reset with a table-top reader
Passive operation
Insensitive to EM and RF interferences
Operation at high dose rates and in pulsed fields
Built-in memory chip for measurement location identification storage
Small, rugged and waterproof
A replacement to TLD and film
Up to 12 month issue period
PHYSICAL CHARACTERISTICS
Detector type: three TMDIS (Direct Ion Storage) detectors and two MOSFET detectors
Sensitive to gamma and X-ray radiation
Insensitive to neutrons (<5 %)
Instant readout of ICRU dose equivalents: H*(10) 1 μSv to 40 Sv (0.1 mrem to 4000 rem) 1)
Calibration accuracy: ±5 % at 1 mSv 137Cs for H*(10)
Energy response in the dose range up to 1 Sv for Photons: H*(10) ±30 % from 15 keV to 9 MeV
Angular response: H*(10) ±20 % up to 60° at 65 keV 1) When calibrated after every 10 Sv of accumulated dose
FUNCTIONAL CHARACTERISTICS
Recording of official H*(10) dose
Memory:
– Calibration date
– Dose reset dates
– Location ID and name
MECHANICAL CHARACTERISTICS
Size: 41 x 44 x 12 mm, with holder 47 (95 with strap) x 49 x 13 mm (1.61 x 1.73 x 0.47 in , with holder 1.85 (3.74 with strap) x 1.93 x 0.51 in)
Weight: 25 g (0.88 oz) , with holder 43 g (1.52 oz)
Holder: anodized aluminum
ENVIRONMENTAL CHARACTERISTICS
Temperature range from -25°C to +50°C (13°F to 122°F)
Enclosure class: IP 67 (waterproof )