Instadose+ Dosimeter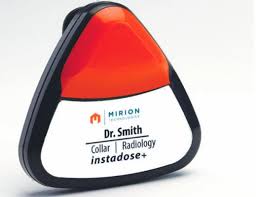 The Instadose+ dosimetry system revolutionizes the way RSOs manage their radiation monitoring programs. Featuring Bluetooth technology to quickly, easily, remotely transmit radiation dose data via smart devices, PCs, and InstaLink hotspot stations, Instadose+ dosimeters eliminate the time-consuming badge collection, processing and redistribution process. And, real-time reporting and tracking capabilities allow users to pinpoint high dose exposures and anomalies faster because only Instadose+ dosimeters enable on-demand and scheduled calendar reads with online access to both historical and current dose measurements and reports.
Features:
Elimination of the badge collection, offsite processing and redistribution process
Increased compliance
Instant dose reads captured with smart devices (phones and tablets), PCs, or InstaLink™ stations
Online Report access eliminates the need to archive and distribute results
RSO-defined read intervals for dose trending
The ability to track and lower dose for high risk employees
Immediate e-mail notification when wearer exceeds dose level specified
Description: Single Detector [Deep: Hp(10], Direct Ion Storage (DIS) Technology, Bluetooth® Wireless Technology
Size & Weight: Top: 1 x 1 in. (2.54 x 2.54 cm); Bottom: 2 x 2 in. (5.08 x 5.08 cm), Wt: 0.8 oz (0.02 kg)
Badge Type: 37 = Instadose+ badge
Accreditations: In the United States under NVLAP (lab code: 100555-0), In the U.K. under HSE, Various other countries
Minimum Reportable Dose: 5 mrem (0.05 mSv) (3 mrem available upon request)
Useful Dose Range: 1 mrem – 500 rem* (0.01 mSv – 5 Sv)
Energy Response: Photon 5 keV – 6 MeV
Temperature Range: Best if used and stored in indoor, room temperate environments between 50-86 °F (10-30 °C)
Transmission Methods: Wireless transmission of dose data from Instadose+ and Instadose 2 dosimeters is enabled using a smart phone or tablet (with the Instadose App downloaded) or the Instadose line of communication products: InstaLink™-USB or InstaLink hotspot station.