SPIR-ACE Radio Isotope Identification Device (RIID)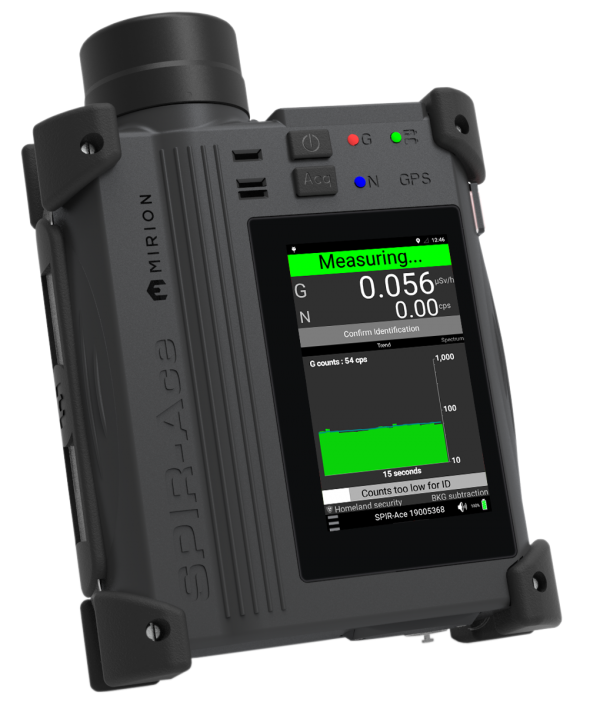 The SPIR-Ace unit is a versatile Radio Isotope Identification Devices (RIID) addressing all applications requiring efficient detection and identification of radiological threats in security applications, including civil defense, border security and customs. The SPIR-Ace device can be used in law enforcement, emergency response and other critical infrastructure applications. It also provides accurate assessment of nuclear materials for power plants, safeguard inspection, forensic laboratories and OSI/CTBTO agents.
The SPIR-Ace unit offers identification performance beyond current standards for RIIDs such as for heavily shielded isotopes, unbalanced mixtures of nuclides and Special Nuclear Material (SNM) masked by medicals or Naturally Occurring Radioactive Material (NORM) within a few seconds.
The SPIR-Ace device offers user-friendly and state-of-the-art features such as easy localization with directional indication, geo-localization and remote data transfer to a command center.
Features:
Ultra-fast and accurate compact identifier
Superior performance in heavy shielded and unbalanced SNM masking scenarios
Radiological performance exceeds current standards for radio isotope identification devices (RIIDs).
Multiple usage scenarios: radiological security, nuclear accident, source assessment applications, etc.
Automatic gain stabilization without the need for a source
User-friendly interface
Optional external alpha and beta contamination probes
Internal mapping capability
Live data transmission and reachback capability
Remote display and control through a web enabled wireless devices
RADIOLOGICAL CHARACTERISTICS
Detectors:
NaI(Tl) version: dia 35 mm x 51 mm (1.4" dia x 2")
LaBr3 (Ce) version: dia 25,4 mm x 34 mm (1" dia x 1.34")
Energy compensated GM tube for high gamma dose rate
Optional neutron detector: moderated 6 LiZnS:Ag scintillator
Optional external alpha/beta probe
Energy range:
25 keV to 3 MeV (gamma)
0,025 eV to 15 MeV (neutron)
Gamma dose rate range:
0.001 μSv/h to 100 mSv/h (0.1 μR/hr to 10 R/hr)
Identification:
Fast digital, MCA 1024 channels, throughput >100 000 cps
Single, bare or shielded, and mixed isotopes
7 libraries containing 80 nuclides
Identifies up to 8 nuclides simultaneously
Detection and identification performance exceeds
ANSI N42-34, IEC62327 and IAEA NSS 1:
Identifies the radionuclides in 5 to 15 seconds at a dose rate of 0.5 µSv/h (50 µR/h)
CHARACTERISTICS
Standards Compliance:
ANSI N42.34 / IEC62327 / CE
Environment:
Operating temperature range: -20°C to +55°C (-4°F to +131°F)
Humidity: 93% relative humidity at 40°C
Water and dust: IP65
Electrical:
Li-ion rechargeable, 6700 mAh, 3.6 V, built-in charger, replaceable
Battery life: 8.5 hours
Charge time: 5 hours using a standard micro USB charging cord
Physical:
Weight: maximum (NaI and LiZnS detectors) 1.45 kg (3.2 lb)
Dimensions: 206 x 153 x 57 mm (8.1 x 6.2 x 2.2")