Instadose Dosimeter X-Ray Badge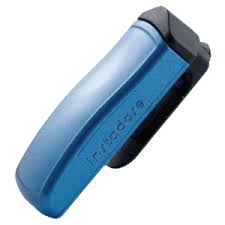 Quick & Easy Plug-In and Read Functionality
Smaller than a flash drive, this rugged dosimeter provides immediate dose data using any internet enabled computer. Based upon proprietary direct ion storage (DIS) technology, the Instadose dosimeter enables users to transmit dose data remotely, on demand, and access historical and current exposure readings online. There is no need to send badges to a processing center, simplifying administration and reducing costs.
This device complies with Part 15 of the FCC Rules. Operation is subject to the following two conditions: (1) this device may not cause harmful interference, and (2) this device must accept any interference received, including interference that may cause undesired operation.
With Mirion Technologies online Account Management Program (AMP) account administrators can manage all the elements of a radiation monitoring program online anytime, from anywhere. From account administration to managing individual wearers and devices, AMP provides real-time access to account details, device assignments, reports, and all pertinent account information.
Features:
Accredited by NVLAP (Lab Code 100555-0), HSE, FANR-R, Nigerian Nuclear Regulator Authority (NNRA), and  Austrialia States New South Wales and Victoria
Unlimited real-time dose readings online
Online badge reassignment
Dose reports maintained online
NO badge collection
NO battery replacements or calibration
Description: Direct Ion Storage (DIS) Technology
Size & Weight: 2.5 x 0.75 in. (6.35 x 1.91 cm),  Wt: 0.8 oz (0.02 kg)
Badge Type: 31 = Instadose 1
Accreditations/Approvals/Licenses: In the United States under NVLAP (lab code: 100555-0) in the UK under HSE (DS 49/2010) and various other country accreditations/approvals
Minimum Reportable Dose: 3 mrem (0.03 mSv), 1 mrem (0.01 mSv) upon request
Lower Limit of Detection: 1 mrem (0.01 mSv)
Useful Dose Range: 1 mrem – 500 rem* (0.01 mSv – 5 Sv)
Energy Response: Photon 5 keV – 6 MeV
Temperature Range: Best if used and stored in indoor, room temperate environments between 50-86 °F (10-30 °C)