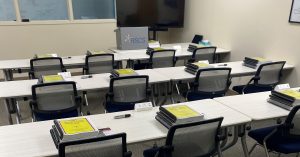 RSCS has offered world-class Radiation Safety Officer training since 2016. Our instructors have over a hundred years of combined experience in the field of Radiation Protection, most with advanced degrees and professional Radiation Protection certifications. Our students come from a wide range of fields including medical, manufacturing, research, government, and military, just to name a few. We tailor our course to a wide variety of backgrounds and experiences. At the end of the 5-day course, students receive a Certificate of Completion. Here's what some of our students had to say about our RSO course:
"I liked the vast and varied amounts of information presented and the diverse levels of knowledge of the instructors."  September 2022, Chase Sheley, Applied Materials
"I liked the real-life experiences the instructor shared with the class and how they relate to our individual jobs."  June 2023, Rachel Cox, Cape Fear Analytical (Wilmington, NC)
Our next class will be held September 18-22, 2023, at our Seabrook, NH facility.  There are still a few openings available. Contact us today to register and earn your Radiation Safety Officer Certification for 2023. 
Learn more about our 2023 Training Courses: https://www.radsafety.com/training/training-schedule
Contact Us at 1-800-525-8339 or send us a message https://www.radsafety.com/contact