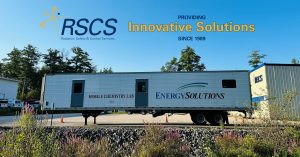 This summer the Environmental and Engineering Support Team has been working on a unique project, constructing a mobile chemistry trailer. Energy Solutions requested a Chemistry Trailer to support chemistry and counting room analysis for lake discharges, well samples, water chemistry during the RVI process and, analyze soil samples and open-air demo air samples during the D&D process, final status surveys (FSS), and support of the license termination plan (LTP) throughout the site. FSS samples will be counted over the life of the project. The Chemistry trailer will also house the two Tennelecs which will be in service until all waste is removed from the site.
   Chemistry and counting facilities are normally housed in a chemistry lab. D&D requires the evacuation of all buildings on site. To maintain chemistry and counting of all samples temporary facility will be needed, that will be moved. Given industry practices the modification of a semi-trailer has proven to be a good equivalent to a lab facility.
   The Trailer will be the last piece of equipment that leaves the site when D&D and FSS are complete. This project had several engineering challenges, such as reinforcing the floor to take the weight of 4 gamma caves, Tennelecs, and an LSC. Doors, windows, and an HVAC system were also added with a lot of custom fabrication. Separate sinks for regular waste and contaminated, plenty of outlets for additional equipment, and two workstations. 
   The result was a unique mobile lab that can be deployed around the country.