APex Beryllium Oxide (BeO) Optically Stimulated Luminescense (OSL) Dosimeter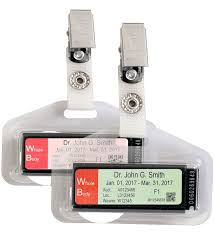 Optically-Stimulated Luminescence (OSL) of Beryllium Oxide (BeO) offers improved resistance to environmental influences, fading, and increased durability.
The increased sensitivity inherent in the APex dosimeter provides accurate dose readings even when exposed to extreme temperatures or moisture.
As with other OSL technologies, the APex dosimeter can be reread multiple times, enabling re-evaluation into unusual exposures. Broad dose response capability makes the APex ideally-suited for a wide range of applications and environments.
Features:
Re-readablility to verify dose
Slim and lightweight form factor makes it easy to wear
Protective blister pack improves durability *Do not open blister pack under any circumstances.
Large, easy-to-read label with color coded monitoring periods for easy tracking
Barcoded for easy user identification and tracking
Rotational clip for added flexibility and comfort
Reusable clip and strap
Whole-body and area monitoring configurations
Applications:
Medical practitioners and technologists, dentist, veterinarians, chiropractors, or any practice with potential exposure to photon or high energy beta radiation.
Description: 2 element beryllium oxide (BeO)
Badge Type: 30 = Beryllium oxide
Holder Type: BP = Blister pack
Accreditations/Approvals/Licenses: NVLAP (Code: 100555-0) and HSE
Minimum Reportable Dose: 10 mrem (0.10 mSv)
Useful Dose Range: 10 mrem – 1000 rem (0.10 mSv – 10 Sv)
Energy Response:
• Photon 12 keV – 7 MeV
• Beta 0.565 MeV – 5 MeV