Telepole II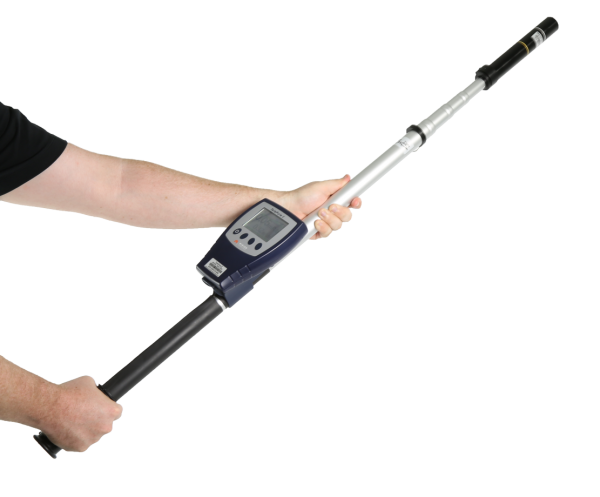 The Telepole II is a wide range telescopic survey meter with a measuring range of between 0.05 mR/h to 1000 R/h. It features the same length pole as it's predecessor, reaching 11 feet when fully extended.  Combined with an integrated LED light in the detector head, the Telepole II makes it easier than ever to survey components in dark or dimly lit areas.
Capable of working as a stand alone instrument, or being integrated into a telemetry system using the
onboard WRM2 radio, the Telepole II is a valuable radiation survey tool for nuclear facilities or other
location with out-of-reach radiological concerns.
Features:
Color coded display featuring large easy to read digits
Simultaneous display of external and internal detectors
Simple multi- layered menu for quick selection of command
WRM2 communication
Integrated BT alarm communication:
-Vibrating Bracelet
-Earphone
Aluminum 11' Pole with quarter turn positive locking mechanism
Built in LED for dark areas being surveyed
Interchangeable "smart" detector capabilities
Long battery life (85 hours)
IP-65 rated meter
METER RADIOLOGICAL CHARACTERISTICS
• Detector: Energy Compensated GM tube (ZP-1201 or equivalent)
• Measuring range: 0.1 uSv/h to 10 mSv/h (10 uR/h to 1.5 R/h)
• Accuracy: ± 10 % of reading, within the measuring range
• Energy range: 50 KeV – 2 MeV
• Energy response: Better than 25% for whole energy range
• Sensitivity (137Cs): 18 cps/mR/h
ELECTRICAL CHARACTERISTICS
• Power supply: four 1.5 Volt AA-type alkaline cells
• Battery Life: 85 hours continuous operation (Four 1.5 Volt AA-type alkaline cells)
MECHANCIAL CHARACTERISTICS
• Pole Length: -Collapsed: 120 cm (3'11") -Extended: 335 cm (11')
• Weight: 1.95 Kg's (4.3 lbs)
• Display: Color TFT Display
• Threshold Alarms: User selectable for dose rate and accumulated dose
• Housing: Ruggedized Plastic, IP-65
ENVIRONMENTAL CHARACTERISTICS
• Operating Temperature: -20°C to + 50°C (-4°F to 122°F)
• Humidity: Up to 95% at 35°C (95°F)